Vedder Steel, a family owned business, established in 1979 by Gerry Innes, specializing in architectural structural and miscellaneous steel fabrication and erection subcontractor located in Langley, BC.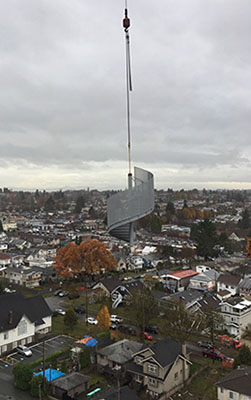 Whether your project is LARGE or SMALL, we are ready to assist you in meeting your deadline and bottom line. We are equipped to furnish all your architectural structural steel fabrication and installation needs; we are capable of quick response to your miscellaneous steel requirements.
With over 40 years of experience, Vedder's fabricating and erecting crews continue to provide quality fabrication together with safe and efficient erecting procedures for both large and small commercial, industrial, residential and government projects.
We are specialists in Miscellaneous Metals, Architectural Structural Steel for buildings, homes, support structures and architectural features such as walkways, spiral staircases, gates etc.
We are the only company qualified in the use of helicopters for installing components.
We are expert Seismic Upgrading Specialists and have 40 years of experience in this field. Seismic Upgrades provides a sample of our work.
In addition, Gerry also has a CONSULTING COMPANY, separate from Vedder Steel's fabrication business. He is available for hire to provide you with the benefit of his experience on your projects.